Buildings are village structures that provide Special Items, Coins and XP. They can be purchased from the Market or found via Quests, and can be Harvested for Resources. Like most village structures, Buildings take time to regenerate between Harvests, but once regenerated can usually be Harvested instantaneously.
No comparison matrix exists for Buildings, since many of them produce unique Special Items, and there is only an incremental advantage between them when considering earned Coins and XP per hour.
Additional Buildings can be found at Spook Row and Snowy Hills.
See also: Premium Buildings, Quest Buildings, Houses
Watch Tower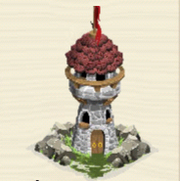 Level: 1
Cost: 290
Size: 2x2
Requires: 1 Rocks
Build Time: 5 seconds
Build XP: 4
Happiness: 7
Produces:
Coins & XP: 1
Regenerates: 5 minutes
Special Items: Shield
Built at: Phase 1 of Security Check
Visited for: 
Smithy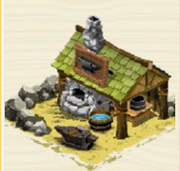 Level: 2
Cost: 640
Size: 2x2
Requires: 3 Rocks
Build Time: 1 minutes
Build XP: 8
Happiness: 15
Produces:
Coins & XP: 1
Regenerates: 5 minutes
Special Items: Chisel
Built at: Phase 4 of Security Check
Visited for: 
Marketplace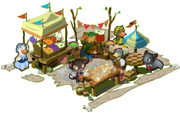 Level: 3
Cost: 1000
Size: 3x3
Build Time: 5 minutes
Build XP: 13
Happiness: 24
Produces:
Built at: Phase 2 of Thistle While You Work
Visited for: 
Bakery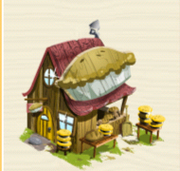 Produces:
Coins & XP: 6
Regenerates: 4 hours
Special Items: Honey Bun
Built at: Phase 11 of Ze Sweet Honey
Visited for: Phase 12 of Ze Sweet Honey
School House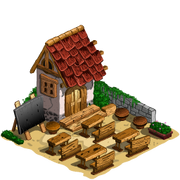 Level: 4
Cost: 1500
Size: 2x2
Requires: 2 Wax, 2 Fairy Dust, 1 Wild Honey
Build Time: 5 minutes
Build XP: 18
Happiness: 33
Produces:
Built at: Phase 1 of Animals Wanna Have Fun
Visited for: 
Barber Shop
Cost: 1700
Size: 2x2
Build Time: 1 hour
Build XP: 21
Happiness: 36
Produces:
Coins & XP: 4
Regenerates: 2 hours
Special Items: Wax
Built at: Phase 2 of Baa Baa
Visited for: 
Dark Park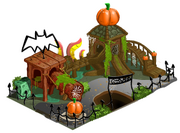 Produces:
Coins & XP: 10
Regenerates: 2 hours
Special Items: Dewdrop
Built at: 
Visited for: 
Magic Shop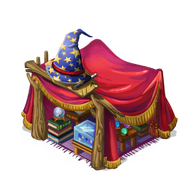 Level: 6
Cost: 1700
Size: 2x2
Requires: 
Build Time: 8 hours
Build XP: 21
Happiness: 36
Produces:
Coins & XP: 13
Regenerates: 8 hours
Special Items: None
Built at: 
Visited for: 
Sawmill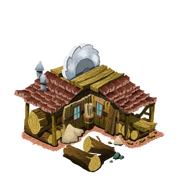 Level: 6
Cost: 1900
Size: 2x2
Build Time: 2 hours
Build XP: 23
Happiness: 40
Produces:
Built at: 
Visited for: 
Doctor's Office
Level: 6
Cost: 1900
Size: 2x2
Requires: 10 Stone Bricks, 20 Shield
Build Time: 8 hours
Build XP: 23
Happiness: 40
Produces:
Coins & XP: 14
Regenerates: 5 hours
Special Items: 
Built at: 
Visited for: 
Safari Store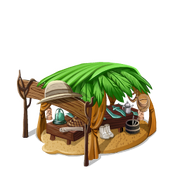 Level: 6
Cost: 1900
Size: 2x2
Requires: 
Build Time: 5 minutes
Build XP: 
Happiness: 
Produces:
Coins & XP: 2
Regenerates: 1 hour
Special Items: Thread
Built at: 
Visited for: 
Western Saloon
Note: Referred to as "Saloon" in Quests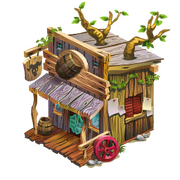 Level: 6
Cost: 1700
Size: 2x2
Requires: 
Build Time: 
Build XP: 
Happiness: 
Produces:
Coins & XP: 10
Regenerates: 6 hours
Special Items: None
Built at: 
Visited for: 
School Supply Store
Level: 6
Cost: 1900
Size: 2x2
Build Time: 1 hour
Build XP: 23
Happiness: 40
Produces:
Coins & XP: 10
Regenerates: 5 hours
Special Items: Book
Built at: 
Visited for: 
Summoning Circle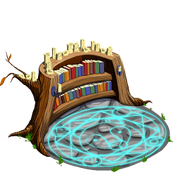 Level: 6
Cost: 1900
Size: 2x2
Requires: 10 Rocks, 2 Frog Potion, 15 Spirit
Build Time: 5 hours
Build XP: 23
Happiness: 40
Produces:
Coins & XP: 7
Regenerates: 4 hours
Special Items: 
Built at: 
Visited for: 
BA Embassy
Produces:
Coins & XP: 40
Regenerates: 24 hours
Special Items: None
Built at: 
Visited for: 
Club House
Level: 7
Cost: 1900
Size: 2x2
Requires: 8 Planks, 15 Wax
Build Time: 
Build XP:
Happiness: 
Produces:
Coins & XP: 40
Regenerates: 10 hours
Special Items: 
Built at: 
Visited for: 
Friendship Center
Produces:
Coins & XP: 20
Regenerates: 12 hours
Special Items: BA Flag, 
Built at: 
Visited for: 
Windmill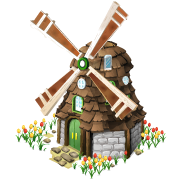 Level: 7
Cost: 2100
Size: 2x2
Requires: 30 Wood, 3 Sawhorse, 1 Quarry Stone
Build Time: 4 hours
Build XP: 26
Happiness: 43
Produces:
Coins & XP: 15
Regenerates: 5 hours
Special Items: None
Built at: 
Visited for: 
Movie theater
Build Time: -
Build XP: -
Happiness: -
Produces:
Coins & XP: 105
Regenerates: 4 hours
Special Items: -
Cafe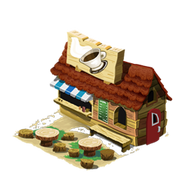 Level: 8
Cost: 2300
Size: 2x2
Requires: 1 Honey Bun, 3 Wild Honey, 30 Herbs
Build Time: 4 hours
Build XP: 29
Happiness: 46
Produces:
Coins & XP: 46
Regenerates: 8 hours
Special Items: Honey Bun
Built at: 
Visited for: 
Grand Feast Hall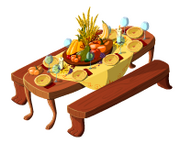 Produces:
Coins & XP: 12
Regenerates: 6 hours
Special Items: Buckled Hat
Built at: 
Visited for: 
Traveller's Lodge
Produces:
Coins & XP: 12
Regenerates: 6 hours
Special Items: Fall Leaves
Built at: 
Visited for: 
Sparkling Cider Store
Level: 8
Cost: 2300 + 200+ gold
Size: 2x2
Requires: some items which are available only for gold, canot be gained from any building
Build Time: 
Build XP: 
Happiness: 
Produces:
Coins & XP: 23
Regenerates: 8 hours
Special Items: 
Built at: 
Visited for: 
Calendar Store
Level: 8
Cost: 2300
Size: 2x2
Requires: Paper and 2 Clock Candles
Build Time: 
Build XP: 
Happiness: 
Produces:
Coins & XP: 23
Regenerates: 6 hours
Special Items: 
Built at: 
Visited for: 
Blitzen sleigh shop
Level: -
Cost: 2300
Size: -
Requires: -
Build Time: -
Build XP: -
Happiness: -
Produces:
Coins & XP: 23
Regenerates: 12 hours
Special Items: 
Cobbler
Produces:
Coins & XP: 98
Regenerates: 12 hours
Special Items: 
Built at: 
Visited for: 
Water Park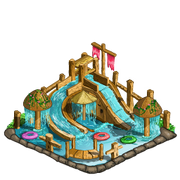 Level: 9
Cost: 2600
Size: 2x2
Build Time: 5 hours
Build XP: 32
Happiness: 49
Produces:
Coins & XP: 7
Regenerates: 3 hours
Requires: Dewdrop
Built at: 
Visited for: 
Gym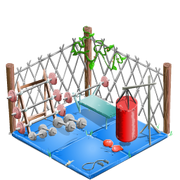 Level: 9
Cost: 2600
Size: 2x2
Build Time: 4 hours
Build XP: 32
Happiness: 49
Produces:
Coins & XP: 9
Regenerates: 4 hours
Special Items: 
Built at: 
Visited for: 
Kebab Stand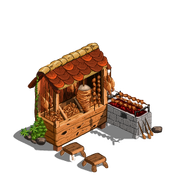 Level: 10
Cost: 3100
Size: 2x2
Build Time: 4 hours
Build XP: 39
Happiness: 58
Produces:
Coins & XP: 10
Regenerates: 4 hours
Special Items: Honey Bun
Built at: 
Visited for: 
Halloween Treats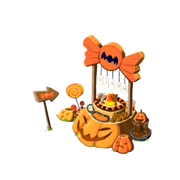 Produces:
Coins & XP: 10
Regenerates: 4 hours
Special Items: 
Built at: 
Visited for: 
Tailor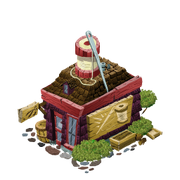 Level: 10
Cost: 3100
Size: 2x2
Build Time: 8 hours
Build XP: 39
Happiness: 58
Produces:
Coins & XP: 30
Regenerates: 8 hours
Special Items: Thread
Built at: 
Visited for: 
Dress shop
Level: -
Cost: 3100
Size: 2x2
Requires: - 
Build Time: - 
Build XP: - 
Happiness: - 
Produces:
Coins & XP: 5
Regenerates: 2 hours
Special Items: 
Easter Shop
Level: 10
Cost: 3100
Size: 2x2
Requires: 
Build Time: 
Build XP: 
Happiness: 
Produces:
Coins & XP: 13
Regenerates: 5 hours
Special Items: 
Built at: 
Visited for: 
Trophy Room
Level: 10
Cost: 3100
Size: 2x2
Requires: Stone Bricks, Fairy Dust, 5 King Lionheart's Trophy 
Build Time: 3 hours 
Build XP: 
Happiness: 
Produces:
Coins & XP: 8
Regenerates: 3 hours
Special Items: 
Built at: 
Visited for: 
Slalom ski shop
Level: -
Cost: 3100
Size: 2x2
Requires: - 
Build Time: - 
Build XP: - 
Happiness: - 
Produces:
Coins & XP: 15
Regenerates: 6 hours
Special Items: 
General Store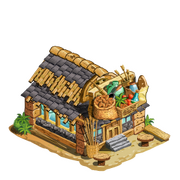 Level: 11
Cost: 3400
Size: 2x2
Build Time: 8 hours
Build XP: 40
Happiness: 69
Produces:
Built at: 
Visited for: 
Chocolate Shop
Level: 11
Cost: 3400
Size: 2x2
Requires: 
Build Time: 
Build XP: 
Happiness: 
Produces:
Coins & XP: 6
Regenerates: 3 hours
Special Items: 
Built at: 
Visited for: 
Painting Studio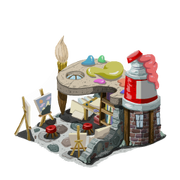 Level: 12
Cost: 3700
Size: 2x2
Requires: 10 Paper, 10 Dye, 20 Fairy Dust
Build Time: 8 hours
Build XP: 47
Happiness: 64
Produces:
Coins & XP: 11
Regenerates: 4 hours
Special Items: Paper
Built at: 
Visited for: 
Book Shop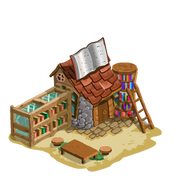 Level: 13
Cost: 4000
Size: 2x2
Build Time: 8 hours
Build XP: 50
Happiness: 67
Produces:
Built at: 
Visited for: 
Rocky Pool
Level: 14
Cost: 4400
Size: 2x2
Build Time: 8 hours
Build XP: 55
Happiness: 70
Produces:
Built at: 
Visited for: 
Town Hall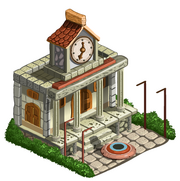 Level: 15
Cost: 4700
Size: 3x3
Requires: 15 Shield, 7 Stone Bricks, 5 Planks
Build Time: 12 hours
Build XP: 59
Happiness: 73
Produces:
Coins & XP: 37
Regenerates: 7 hours
Special Items: Gemstones, Book
Built at: 
Visited for: 
Grocery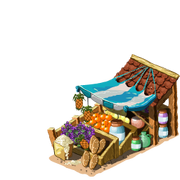 Level: 15
Cost: 4700
Size: 1x2
Build Time: 12 hours
Build XP: 59
Happiness: 73
Produces:
Coins & XP: 73
Regenerates: 6 hours
Special Items: Tea Bag
Built at: 
Visited for: 
Lemonade Stand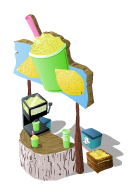 Level: 15
Cost: 4700
Size: 1x1
Build Time: 24 hours
Build XP: 59
Happiness: 73
Produces:
Coins & XP: 25
Regenerates: 8 hours
Special Items: Honey Bun
Built at: 
Visited for: 
Paddy's Inn
Level: 15
Cost: 4700
Size: 2x2
Requires: 
Build Time: 
Build XP: 
Happiness: 
Produces:
Coins & XP: 10
Regenerates: 3 hours
Special Items: 
Built at: 
Visited for: 
Rug Store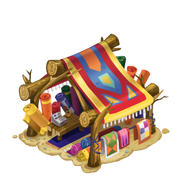 Level: 16
Cost: 5100
Size: 2x2
Build Time: 12 hours
Build XP: 63
Happiness: 76
Produces:
Coins & XP: 38
Regenerates: 7 hours
Special Items: 
Built at: 
Visited for: 
Village Inn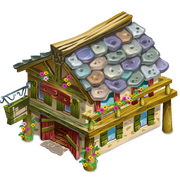 Level: 17
Cost: 5400
Size: 2x2
Requires: 5 Chisel, 15 Wood, 3 Quarry Stone
Build Time: 12 hours
Build XP: 68
Happiness: 78
Produces:
Built at: 
Visited for: 
Mason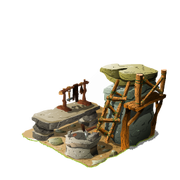 Level: 18
Cost: 5800
Size: 2x2
Requires: 10 Quarry Stone, 30 Rocks, 10 Chisel
Build Time: 12 hours
Build XP: 73
Happiness: 81
Produces:
Built at: 
Visited for: 
Summer Camp
Level: 19
Cost: 6200
Size: 2x2
Requires: 8 Book, 10 Honey Bun, 15 Fairy Dust
Build Time: 12 hours
Build XP: 78
Happiness: 84
Produces:
Built at: 
Visited for: 
Carpenter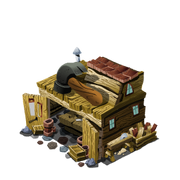 Level: 20
Cost: 7000
Size: 2x2
Build Time: 12 hours
Build XP: 87
Happiness: 97
Produces:
Built at: 
Visited for: 
Flower Shop
Level: 20
Cost: 3100
Size: 2x2 
Requires: 5 Lei Necklace, 4 Valentine Cards, 2 Lovely Vase 
Build Time: 3 hours 
Build XP: 
Happiness: 
Produces:
Coins & XP: 8
Regenerates: 3 hours
Special Items: 
Built at: 
Visited for: 
Cone Truck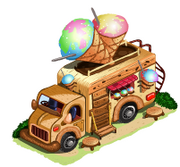 Level: 20
Cost: 3100
Size: 1x2
Build Time: 4 hours
Build XP: 39
Happiness: 58
Produces:
Coins & XP: 10
Regenerates: 4 hours
Special Items: 
Built at: 
Visited for: 
Souvenir Shop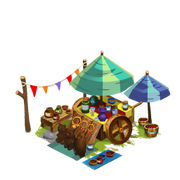 Level: 21
Cost: 7400
Size: 2x2
Requires: 5 Spyglass, 10 Fairy Dust, 15 Rocks
Build Time: 10 hours
Build XP: 92
Happiness: 97
Produces:
Built at: 
Visited for: 
Skating Rink
Level: 21
Cost: 7400
Size: 2x3
Requires: 1 Ice Block, 5 Chisel, 1 Stone Bricks
Build Time: 12 hours
Build XP: 92
Happiness 97
Produces:
Built at: 
Visited for: 
Pretzel Stand
Level: 22
Cost: 7900
Size: 2x2
Build Time: 24 hours
Build XP: 98
Happiness: 100
Produces:
Coins & XP: 17
Regenerates: 4 hours
Special Items: 
Built at: 
Visited for: 
Cider Press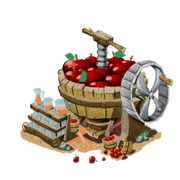 Produces:
Coins & XP: 200
Regenerates: 12 hours
Special Items: 
Built at: 
Visited for: 
Community Hall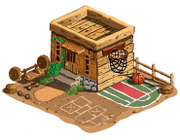 Note:
Referred to as "Community Center" in Quests
Level: 23
Cost: 8300
Size: 3x3
Requires: 15 Fairy Dust, 10 Chisel, 10 Shield
Build Time: 16 hours
Build XP: 104
Happiness: 102
Produces:
Built at: 
Visited for: 
Well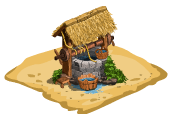 Level: ?
Cost: 3100
Size: 2x2
Build Time: 4 hours
Build XP: 39
Happiness: 58
Produces:
Coins & XP: 10
Regenerates: 4 hours
Special Items: 
Built at: 
Visited for: 
Chesse shop
Level: -
Cost: 8300
Size: 2x2
Requires: -  
Build Time: -  
Build XP: -  
Happiness: - 
Produces:
Coins & XP: 52
Regenerates: 12 hours
Special Items: 
Compost center
Level: -
Cost: 8300
Size: 2x2
Requires: 
Build Time: 
Build XP: 
Happiness: 
Produces:
Coins & XP: 52
Regenerates: 12 hours
Special Items: 
Pickle Shop
Produces:
Coins & XP: 106
Regenerates: 24 hours
Special Items: 
Built at: 
Visited for: 
Sculpting Studio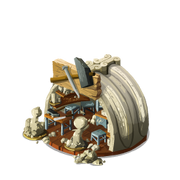 Level: 26
Cost: 9800
Size: 2x2
Requires: 10 Stone Bricks, 10 Chisel, 20 Wax
Build Time: 10 hours
Build XP: 123
Happiness: 111
Produces:
Built at: 
Visited for: 
Brightwood billiards
Level: -
Cost: 9800
Size: 2x2
Requires: 
Build Time: 
Build XP: 
Happiness: 
Produces:
Coins & XP: 47
Regenerates: 10 hours
Special Items: 
Inventor's Studio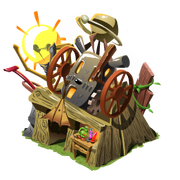 Level: 28
Cost: 11000
Size: 2x2
Requires: 10 Paper, 10 Fairy Dust, 10 Honey Bun
Build Time: 24 hours
Build XP: 136
Happiness: 116
Produces:
Coins & XP: 116
Regenerates: 24 hours
Special Items: Spyglass
Built at: 
Visited for: 
Hardware Store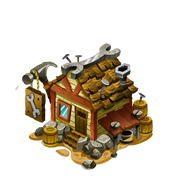 Level: 30
Cost: 12000
Size: 2x2
Requires: 10 Planks, 10 Quarry Stone, 10 Spyglass
Build Time: 24 hours
Build XP: 151
Happiness: 121
Produces:
Built at: 
Visited for: 
Public Library
Level: 30
Cost: 12000
Size: 2x3
Build Time: 12 hours
Build XP: 151
Happiness: 121
Produces:
Coins & XP: 61
Regenerates: 12 hours
Special Items: 
Built at: 
Visited for: 
Monument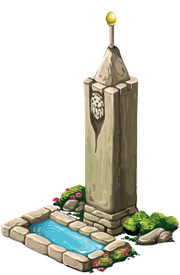 Level: 30
Cost: 12000
Size: 2x2
Requires: 15 Quarry Stone, 10 Shield, 20 Chisel
Build Time: 10 hours
Build XP: 151
Happiness: 121
Produces:
Coins & XP: 21
Regenerates: 4 hours
Special Items: 
Built at: 
Visited for: 
Photo booth
Level: -
Cost: 12000
Size: 2x2
Requires: 5 Velvet curtin, Quarry stone, Spyglass 
Build Time: 
Build XP: 
Happiness: 
Produces:
Coins & XP: 16
Regenerates: 3 hours
Special Items: 
Valentine sweets
Level: -
Cost: 12000
Size: 2x2
Requires: 
Build Time: 
Build XP: 
Happiness: 
Produces:
Coins & XP: 21
Regenerates: 4 hours
Special Items: 
Archery Field
Level: 30
Cost: 13000
Size: 2x2
Build Time: 24 hours
Build XP: 166
Happiness: 127
Produces:
Coins & XP: 43
Regenerates: 8 hours
Special Items: Shield
Built at: 
Visited for: 
Museum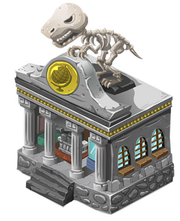 Produces:
Coins & XP: 265
Regenerates: 48 hours
Special Items: 
Built at: 
Visited for: 
Amphitheater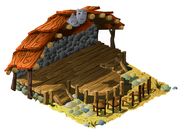 Produces:
Coins & XP: 138
Regenerates: 10 hours
Special Items: 
Built at: 
Visited for: 
Calligraphy Shop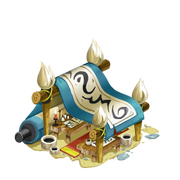 Level: 38
Cost: 17000
Size: 2x2
Build Time: 24 hours
Build XP: 216
Happiness: 143
Produces:
Coins & XP: 72
Regenerates: 12 hours
Special Items: 
Built at: 
Visited for: 
Porrery Shop
Level:
Cost: 19000
Size: 2x2
Requires: 
Build Time: 
Build XP: 
Happiness: 
Produces:
Coins & XP: 50
Regenerates: 8 hours
Special Items: 
Wish Pagoda
Level: -
Cost: 21000
Size: 2x2
Requires: 
Build Time: 
Build XP: 
Happiness: 
Produces:
Coins & XP: 81
Regenerates: 12 hours
Special Items: 
Stir Fry Stand
Level: -
Cost: 21000
Size: 2x2
Requires: 
Build Time: 
Build XP: 
Happiness: 
Produces:
Coins & XP: 103
Regenerates: 15 hours
Special Items: 
Brightwood Jewels
Level: -
Cost: 22000
Size: 2x2
Requires: 
Build Time: 
Build XP: 
Happiness: 
Produces:
Coins & XP: 111
Regenerates: 16 hours
Special Items: 
Ricky Roo's Caf
Level: -
Cost: 22000
Size: 2x2
Requires: 
Build Time: 
Build XP: 
Happiness: 
Produces:
Coins & XP: 167
Regenerates: 24 hours
Special Items: 
Massage Spa
Level: -
Cost: 24000
Size: 2x2
Requires: 
Build Time: 
Build XP: 
Happiness: 
Produces:
Coins & XP: 43
Regenerates: 6 hours
Special Items: 
Aromatherapy Shop
Level: -
Cost: 25000
Size: 2x2
Requires: 
Build Time: 
Build XP: 
Happiness: 
Produces:
Coins & XP: 58
Regenerates: 8 hours
Special Items: 
Village Swap
Level: -
Cost: 25000
Size: 2x2
Requires: 
Build Time: 
Build XP: 
Happiness: 
Produces:
Coins & XP: 89
Regenerates: 12 hours
Special Items: 
Brightwood Bistro
Level: 50
Cost: 27000
Size: 2x2
Requires: 
Build Time: 
Build XP: 
Happiness: 
Produces:
Coins & XP: 46
Regenerates: 6 hours
Special Items: 
Discotheque
Level: -
Cost: 26000
Size: 2x2
Requires: 
Build Time: 
Build XP: 
Happiness: 
Produces:
Coins & XP: 45
Regenerates: 6 hours
Special Items: 
Tiki Juice Shop
Level: 51
Cost: 28000
Size: 2x2
Requires: 
Build Time: 
Build XP: 
Happiness: 
Produces:
Coins & XP: 184
Regenerates: 24 hours
Special Items: 
Tasty Taco Bar
Level: 52
Cost: 29000
Size: 2x2
Requires: 
Build Time: 
Build XP: 
Happiness: 
Produces:
Coins & XP: 106
Regenerates: 13 hours
Special Items: 
Pizza Parlor
Level: 53
Cost: 30000
Size: 2x2
Requires: 
Build Time: 
Build XP: 
Happiness: 
Produces:
Coins & XP: 99
Regenerates: 12 hours
Special Items: 
Bubble Shop
Level: 54
Cost: 31000
Size: 2x2
Requires: 
Build Time: 
Build XP: 
Happiness: 
Produces:
Coins & XP: 75
Regenerates: 9 hours
Special Items: 
Crystal Tower
Level:
Cost: 37000
Size: 2x2
Requires: 
Build Time: 
Build XP: 
Happiness: 
Produces:
Coins & XP: 215
Regenerates: 24 hours
Special Items: