Houses are village structures that provide Cheer and XP, and also act as the homes for the various village Residents. They can be purchased from the Market or found via Quests. Like most village structures, Houses take time to regenerate between harvests, but can be harvested instantly.
Note that the maximum number of Houses that can be built in the village is determined by the village's current Happiness Level. Premium Houses are exempt from this limit.
Additional Houses can be found at Spook Row and Snowy Hills.
See the House Comparison Matrix for interpretation of House production rates.
See also: Premium Houses, Buildings
Tent
Requirements:
Level: 1
Cost: 290 Coins
Size: 2x2
Build Time: 30 seconds
Build XP: 4
Resident: Ducks
Produces:
Cheer: 1
XP: 1
Regenerates: 1 minute
Built at: Start of game
Visited at: 
Lean-To
Produces:
Cheer: 2
XP: 1
Regenerates: 5 minutes
Built at: Welcome Wagon
Visited at: Power of Friendship
Dune House
Level: 4
Cost: 1030 Coins
Size: 2x2
Build Time: 30 minutes
Build XP: 13
Resident: Wolves
Produces:
Cheer: 4
XP: 2
Regenerates: 30 minutes
Built at: 
Visited at: 
Murky Home
Produces:
Cheer: 121
XP: 121
Regenerates: 5 hours
Built at: 
Visited at: 
Flower House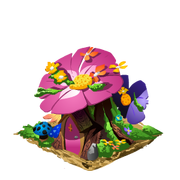 Level: 6
Cost: 1660 Coins
Size: 2x2
Build Time: 1 hour
Build XP: 20
Resident: Lambs
Produces:
Cheer: 6
XP: 5
Regenerates: 1 hour
Built at: 
Visited at: 
Prank House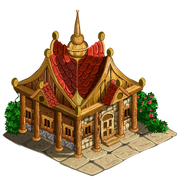 Level: 6
Cost: 1880 Coins
Size: 2x2
Build Time: 12 hours
Build XP: 120
Resident: Monkeys
Produces:
Cheer: 56
XP: 56
Regenerates: 4 hours
Built at: 
Visited at: 
Cowboy Ranch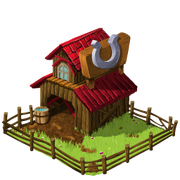 Level: 6
Cost: 1660 Coins
Size: 2x2
Build Time: 
Build XP: 
Resident: 
Produces:
Cheer: 27
XP: 27
Regenerates: 1 hour
Built at: 
Visited at: 
Safe House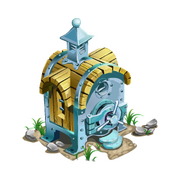 Level: 6
Cost: 1880 Coins
Size: 
Build Time: 
Build XP: 60
Residents: Sharks
Produces:
Cheer: 25
XP: 25
Regenerates: 1 hour
Built at: 
Visited at: 
Yurt House
Level: 6
Cost: 1660 Coins
Size: 
Build Time: 
Build XP: 100
Residents: 
Produces:
Cheer: 88
XP: 88
Regenerates: 3 hours
Built at: 
Visited at: 
Roof Garden
Level: 7
Cost: 2100 Coins
Size: 2x2
Build Time: 5 hours
Build XP: 
Resident: Goats
Produces:
Cheer: 36
XP: 
Regenerates: 3 hours
Built at: 
Visited at:
Clay House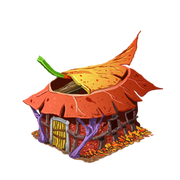 Level: 8
Cost: 2340 Coins
Size: 2x2
Build Time: 2 hours
Build XP: 30
Resident: Squirrels
Produces:
Cheer: 8
XP: 7
Regenerates: 2 hours
Built at: 
Visited at:
North Pole House
Level: -
Cost: 2340 Coins
Size: 2x2
Build Time:
Build XP:
Resident:
Produces:
Cheer: 26
XP:
Regenerates: 14 hours
Built at: 
Visited at:
Log House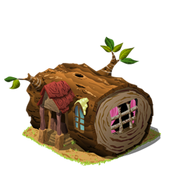 Level: 10
Cost: 3130 Coins
Size: 2x2
Build Time: 4 hours
Build XP: 40
Resident: Pigs
Produces:
Cheer: 12
XP: 12
Regenerates: 4 hours
Built at: 
Visited at:
Fancy Tree Home
Level: -
Cost: 3130 Coins
Size: 2x2
Build Time:
Build XP:
Resident:
Produces:
Cheer: 30
XP:
Regenerates: 5 hours
Built at: 
Visited at:
Spooky Tree House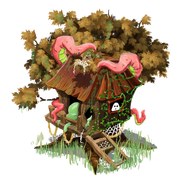 Level: 10
Cost: 3130 Coins
Size: 2x2
Build Time: 12 hours
Build XP: 200
Resident: Zombie Squirrel
Produces:
Cheer: 30
XP: 30
Regenerates: 1 hour
Built at: 
Visited at:
Moonlit Home
Level: -
Cost: 3130 Coins
Size: 2x2
Build Time:
Build XP:
Resident:
Produces:
Cheer: 83
XP:
Regenerates: 5 hours
Built at: 
Visited at:
Antler House
Level: -
Cost: 3130 Coins
Size: 2x2
Build Time:
Build XP:
Resident:
Produces:
Cheer: 12
XP:
Regenerates: 4 hours
Built at: 
Visited at:
Egg Home
Level: 12
Cost: 3720 Coins
Size: 
Build Time: 
Build XP: 
Resident: 
Produces:
Cheer: 38
XP: 
Regenerates: 2 Hours 
Built at: 
Visited at:
Thatched Hut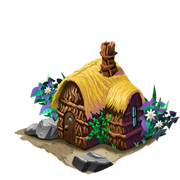 Level: 14
Cost: 4370 Coins
Size: 2x2
Build Time: 8 hours
Build XP: 50
Resident: Penguins
Produces:
Cheer: 20
XP: 20
Regenerates: 6 hours
Built at: 
Visited at: 
Cave Dwelling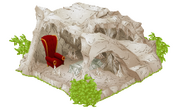 Level: 15
Cost: 4710 Coins
Size: 2x2
Build Time: 5 hours
Build XP: 290
Resident: Bat
Produces:
Cheer: 87
XP: 87
Regenerates: 6 hours
Built at: 
Visited at: 
Mansion Haunted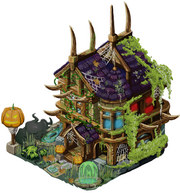 Level: 15
Cost: 4710 Coins
Size: 3x3
Build Time: 10 hours
Build XP: 290
Resident: Zombie Bear
Produces:
Cheer: 32
XP: 32
Regenerates: 1 hour
Built at: 
Visited at: 
Jungle Hut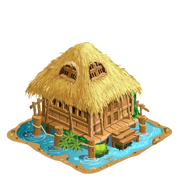 Level: 16
Cost: 5070 Coins
Size: 2x2
Build Time: 10 hours
Build XP: 60
Resident: Frogs
Produces:
Cheer: 21
XP: 21
Regenerates: 8 hours
Built at: 
Visited at: 
Moss Cottage
Level: 18
Cost: 5840 Coins
Size: 2x2
Build Time: 12 hours
Build XP: 70
Resident: Bears
Produces:
Cheer: 47
XP: 47
Regenerates: 8 hours
Built at: 
Visited at: 
Tree House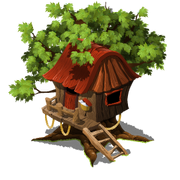 Level: 22
Cost: 7850 Coins
Size: 2x2
Build Time: 12 hours
Build XP: 100
Resident: Raccoons
Produces:
Cheer: 10
XP: 8
Regenerates: 2 hours
Built at: 
Visited at: 
Caravan House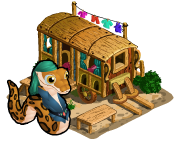 Level: 23
Cost: 7850 Coins
Size: 2x2
Build Time: 24 hours
Build XP: 490
Resident: Snakes
Produces:
Cheer: 242
XP: 242
Regenerates: 12 hours
Built at: 
Visited at: 
Den
Level: 23
Cost: 8320 Coins
Size: 2x2
Build Time: 12 hours
Build XP: 420
Resident: Black Bears
Produces:
Cheer: 109
XP: 109
Regenerates: 8 hours
Built at: 
Visited at: 
Abalone House
Level: -
Cost: 8320 Coins
Size: 2x2
Build Time:
Build XP:
Resident:
Produces:
Cheer: 8
XP:
Regenerates: 2 hours
Built at: 
Visited at:
Violet Cottage
Level: -
Cost: 9310 Coins
Size: 2x2
Build Time:
Build XP:
Resident:
Produces:
Cheer: 42
XP:
Regenerates: 3 hours
Built at: 
Visited at:
Boulder House
Level: 26
Cost: 9830 Coins
Size: 2x2
Build Time: 18 hours
Build XP: 120
Resident: Skunks
Produces:
Cheer: 31
XP: 31
Regenerates: 10 hours
Built at: 
Visited at: 
Chateau House
Level: -
Cost: 9830 Coins
Size: 2x2
Build Time:
Build XP:
Resident:
Produces:
Cheer: 22
XP:
Regenerates: 10 hours
Built at: 
Visited at:
Log Cabin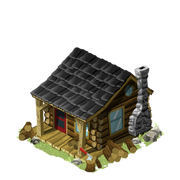 Level: 30
Cost: 12050 Coins
Size: 2x2
Build Time: 24 hours
Build XP: 150
Resident: Weasels
Produces:
Cheer: 50
XP: 50
Regenerates: 12 hours
Built at: 
Visited at: 
Lavender Home
Level: -
Cost: 12050 Coins
Size: 2x2
Build Time:
Build XP:
Resident:
Produces:
Cheer: 96
XP:
Regenerates: 6 hours
Built at: 
Visited at:
Stilt Hut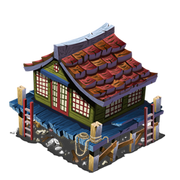 Level: 35
Cost: 15190 Coins
Size: 2x2
Build Time: 24 hours
Build XP: 190
Resident: Deer
Produces:
Cheer: 14
XP: 14
Regenerates: 4 hours
Built at: 
Visited at: 
Boat House
Level: -
Cost: 18720 Coins
Size: 2x2
Build Time:
Build XP:
Resident:
Produces:
Cheer: 23
XP:
Regenerates: 8 hours
Built at: 
Visited at:
Pointy Chalet
Level: -
Cost: 20550 Coins
Size: 2x2
Build Time:
Build XP:
Resident:
Produces:
Cheer: 100
XP:
Regenerates: 6 hours
Built at: 
Visited at:
Blossom Home
Level: -
Cost: 21330 Coins
Size: 2x2
Build Time:
Build XP:
Resident:
Produces:
Cheer: 24
XP:
Regenerates: 8 hours
Built at: 
Visited at:
Hermit House
Level: -
Cost: 21330 Coins
Size: 2x2
Build Time:
Build XP:
Resident:
Produces:
Cheer: 33
XP:
Regenerates: 15 hours
Built at: 
Visited at:
Bw Royalty Home
Level: -
Cost: 22130 Coins
Size: 2x2
Build Time:
Build XP:
Resident:
Produces:
Cheer: 24
XP:
Regenerates: 8 hours
Built at: 
Visited at:
Tuscan House
Level: -
Cost: 22130 Coins
Size: 2x2
Build Time:
Build XP:
Resident:
Produces:
Cheer: 33
XP:
Regenerates: 12 hours
Built at: 
Visited at:
Butterfly Home
Level: -
Cost: 22130 Coins
Size: 2x2
Build Time:
Build XP:
Resident:
Produces:
Cheer: 33
XP:
Regenerates: 12 hours
Built at: 
Visited at:
Sustainable Home
Level: -
Cost: 22940 Coins
Size: 2x2
Build Time:
Build XP:
Resident:
Produces:
Cheer: 24
XP:
Regenerates: 8 hours
Built at: 
Visited at:
Brightwood Manor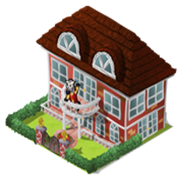 Level: 50
Cost: 18720 Coins
Size: 2x2
Build Time:
Build XP:
Resident:
Produces:
Cheer: 72
XP:
Regenerates: 4 hours
Built at: 
Visited at:
Bed And Breakfast
Level: -
Cost: 23770 Coins
Size: 2x2
Build Time:
Build XP:
Resident:
Produces:
Cheer: 24
XP:
Regenerates: 8 hours
Built at: 
Visited at:
Fishing Cabin
Level: -
Cost: 24610 Coins
Size: 2x2
Build Time:
Build XP:
Resident:
Produces:
Cheer: 24
XP:
Regenerates: 10 hours
Built at: 
Visited at:
Enchanted Tree
Level: -
Cost: 25470 Coins
Size: 2x2
Build Time:
Build XP:
Resident:
Produces:
Cheer: 9
XP:
Regenerates: 3 hours
Built at: 
Visited at:
Hive Home
Level: -
Cost: 26350 Coins
Size: 2x2
Build Time:
Build XP:
Resident:
Produces:
Cheer: 33
XP:
Regenerates: 12 hours
Built at: 
Visited at:
Spore Home
Level: 51
Cost: 28150 Coins
Size: 2x2
Build Time:
Build XP:
Resident:
Produces:
Cheer: 20
XP:
Regenerates: 6 hours
Built at: 
Visited at:
Rainbow House
Level: 52
Cost: 29390 Coins
Size: 2x2
Build Time:
Build XP:
Resident:
Produces:
Cheer: 24
XP:
Regenerates: 8 hours
Built at: 
Visited at:
Light House
Level: 53
Cost: 30330 Coins
Size: 2x2
Build Time:
Build XP:
Resident:
Produces:
Cheer: 24
XP:
Regenerates: 8 hours
Built at: 
Visited at:
Seashell House
Level: 54
Cost: 31290 Coins
Size: 2x2
Build Time:
Build XP:
Resident:
Produces:
Cheer: 24
XP:
Regenerates: 8 hours
Built at: 
Visited at:
Ivy House
Level: -
Cost: 37360 Coins
Size: 2x2
Build Time:
Build XP:
Resident:
Produces:
Cheer: 34
XP:
Regenerates: 12 hours
Built at: 
Visited at: