Premium Houses are Houses that are available in the Market for Gold only.
They are generally not a significant improvement over the best Houses that can be purchased for Coins (i.e. the Prank House, and the Den). The Farm House, if Harvested on a perfect schedule, will produce more Cheer per day than any other option, but the frequent harvest time is a drawback.
While the number of Houses that can be built is limited by the village's current Happiness Level, Premium Houses are exempt from this limit.
Farm House
To Build:
Level: 1
Cost: 14 Gold
Size: 2x2
Time:
Produces:
Cheer: 26
XP: 26
Time: 1 hour
Resident: Moles
Build XP:
Zen House
To Build:
Level: 14
Cost: 24 Gold
Size: 2x2
Time:
Produces:
Cheer: 228
XP: 228
Time: 24 hours
Resident: Pandas
Build XP:
Karate House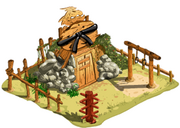 To Build:
Level:
Cost: 16 Gold
Size: 2x2
Time: 12 hours
Produces:
Cheer: 56
XP: 56
Time: 5 hours
Resident: Grasshoppers
Build XP:
==
Garden Home == To Build:
Level:
Cost: 25 Gold
Size: 2x2
Time:
Produces:
Cheer: 38
XP: 38
Time: 2 hours
Resident:
Build XP
Tudor House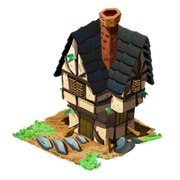 To Build:
Level: 12
Cost: 22 Gold
Size: 2x2
Time:
Produces:
Cheer: 100
XP: 100
Time: 8 hours
Resident: Foxes
Build XP:
Wood Manor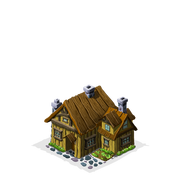 To Build:
Level: 18
Cost: 28 Gold
Size: 2x2
Time:
Produces:
Cheer: 236
XP: 236
Time: 24 hours
Resident: Crows
Build XP:
Bounce House
To Build:
Level: 20
Cost: 30 Gold
Size: 2x2
Time:
Produces:
Cheer: 66
XP: 66
Time: 4 hours
Resident: Rabbits
Build XP:
Hampton House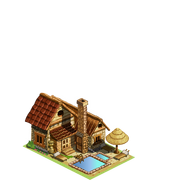 To Build:
Level: 24
Cost: 34 Gold
Size: 3x2
Time:
Produces:
Cheer: 245
XP: 245
Time: 24 hours
Resident: Dogs
Build XP:
Feather House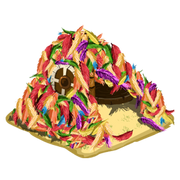 To Build:
Level: 24
Cost: 30 Gold
Size: 2x2
Time:
Produces:
Cheer: 42
XP: 42
Time: 2 hours
Resident:
Build XP: